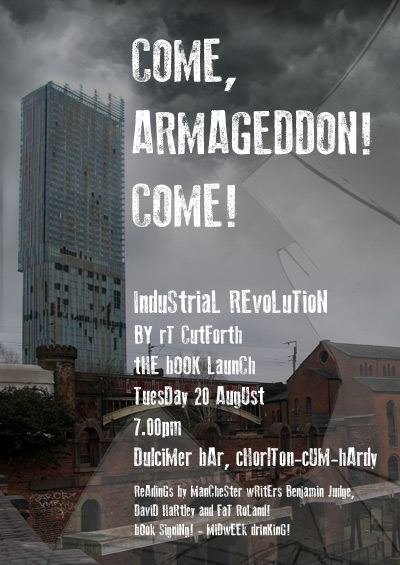 Come, Armageddon, Come!
You are cordially invited to the launch of my book, Industrial Revolution.
The Times calles it "a post-apocalyptic romp through Manchester […] Fun for the whole family! (Not just your goth stepson)"
The Guardian says "Basically, if JK Rowling, Richard Nixon, The Pope, Dweezil Zappa and Dostoyevsky wrote a book together, this would be it!"
The Daily Mail calls it "offensive"
They didn't actually say any of that, I did. That is just a taste of the hijinx in store for you inside the book and on the night itself. PLEASE COME!
Readings by ultra awesome Manchester writers, Benjamin Judge, Dave Hartley and Fat Roland!
Tuesday, 20 August
7.00pm
Dulcimer bar, Chorlton, Manchester
Book signing! Midweek drinking! Aforementioned hijinx!